1976 – Punch Card
In days of old, before the arrival of the personal computer, computers were very large, larger than a washing machine, and demanded many hands to feed and maintain them.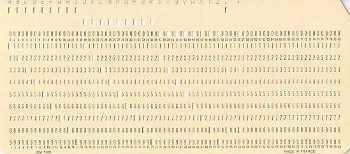 After graduating from the University of Wales with a degree in Pure Maths, I'm working as a computer programmer for a major car manufacturer in the West Midlands, UK. The computers are IBM 360/370 machines, stored in a temperature-controlled, security-patrolled vault on the ground floor of the building, far below where I'm sitting. The computers are maintained by computer operators who wear white lab coats and carry disks the size of large dinner plates.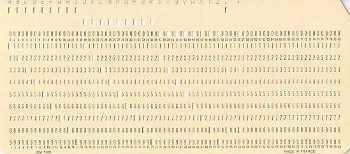 The building consists of three floors and houses the whole of our department, which is known as Management Information Systems. I work on the top floor, where the programmers, systems analysts, and management people live. I write programs in pencil on sheets that are passed on to the the punch card girls who live below me, on the first floor. The programs are typed onto the cards which are returned in a metal tray for testing. When designing the test data, we're told to remember the slogan of 'Garbage In, Garbage Out,' and one purpose of the testing procedure is to check how the program responds if garbage is accidentally input. The test data is also typed onto punch cards and returned in a metal tray. Then, when all the cards are sitting together comfortably, which means lined up in the correct sequence, free of dirt and free of blemish, we pass our metal trays onto Data Processing. Data Processing is actually a real person called Joyce who feeds the punch cards into a terminal. And then we wait for the results. It's an improbable hole in one if nothing goes wrong, so the next stage is debugging. This consists of wading through pages of printout – a dump of hexadecimal computer code – to identify what step in the program is causing the bug. The code will also tell us what's stored in the computer's memory, and we can then work out why the bug occurred. After testing for all eventualities (with good data and bad data), the programs are implemented on the machines downstairs.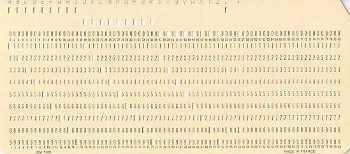 But what happens to the punch cards when their job is done? I know what happens to some of them – they end up as roach material as a large portion of the staff here do like their recreational drugs. The operators work a shift pattern, and the night shift seem to be permanently stoned. The three floors rarely mingle socially however. There's the snack trolley, there's the canteen, and the office party at Christmas. And that's when we get to meet the punch card girls…