1978 – Courtyard Loops
Since leaving university, I've been studying the practical aspects of film making. I've been doing this at weekends and in the evenings, leaving behind my day job as a computer programmer. I've been making films too, and it's not just a solo activity. I've become involved, together with Roger Hewins, in establishing a Filmmakers Co-operative at the Birmingham Arts Lab.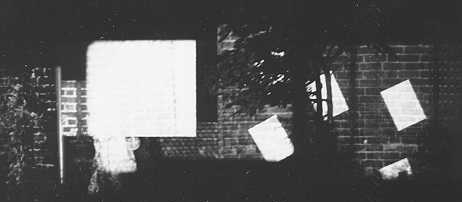 The Arts Lab is a centre for creativity – a place for poets, musicians, performance artists, graphic artists, photographers and writers to practise, perform, hold workshops and discussions, and to display their work to the general public. A place of general lunacy and great fun, where the boundary between spectator and performer is frequently blurred. The Film Co-op takes as its model the London one – a resource for filmmakers that gives them full control over their work, spanning the entire process from production to distribution and including facilities for processing, printing, editing and exhibition. As the filmmaker known as Tony Bloor, and with financial assistance from Regional Arts Associations and the Arts Council, I produce films that are generally termed avant-garde or artist films – films that foreground the process of film making and film viewing and that often, as in my case, involve expanded cinema, in which multiple films are projected simultaneously. We organise distribution packages of our films through the Arts Council's Filmmakers on Tour scheme and our films are shown in colleges and arts centres and at film festivals here in the UK and abroad.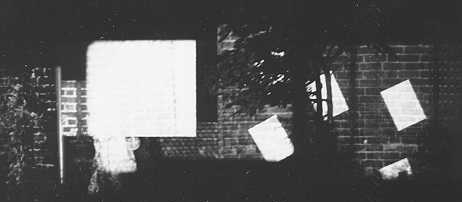 Courtyard Loops was a joint event organised by the Film Co-op and the Music Co-op and, for me, a rare excursion into performance art. It involved filming spaces in the courtyard area of the Lab's new premises, the Lab having moved from its original Tower Street home into the more plush surrounds of the Triangle by Aston University. The 16mm film was cut into loops and, for the performance, the loops are projected back onto the original spaces using multiple projectors, sheets of white paper and a mobile screen. Musicians from the Music Co-op, such as Jan Steele, are scattered about the courtyard and play improvised jazz during the performance. Roger Hewins organises the projection while I stroll purposefully around the courtyard with the portable screen (note the white lab coat). One problem with this improvisation is coordination. Do I take a cue from the music, or does the music take a cue from my wanderings as my performance becomes ever more theatrical? And another problem is, we can't work out when or how the performance is supposed to end – we just have a rough time slot – and the music gets wilder and wilder whilst I attempt to match the tempo with increasingly demented strides.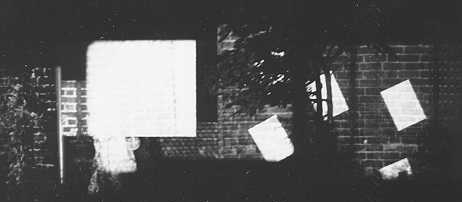 We do this for three nights running.

[Photograph: Roger Hewins.]